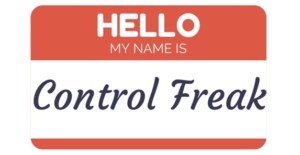 In my media interviews with respect to the recent publication of Losing Control, Finding Serenity: How the Need to Control Hurts Us and How to Let It Go, interviewers and listeners alike often relate their considerable angst and discomfort from having to live and/or work with control freaks.
They tell me that control freaks constantly trample their boundaries, frazzle them, and cause them great anxiety—which, of course, comes as no surprise to me since I am a "reforming" controller myself.
However, what is not well understood is how much "suffering" control freaks endure from their unrelenting compulsion to control.
Controllers are consumed and propelled by their strong fears and anxieties.  Their lives are filled with "what might happens."  They constantly worry about whether important (according to them) matters will be done "right"—which is to say, the way they want them to be done–and on time, and about what dreadful consequences will ensue if they are not.  It is thus no surprise that most control freaks sleep poorly, find it difficult to  "play" and have fun, and have deeper frown lines than laugh lines.
I point these things out not to generate sympathy for their overbearing ways, but rather as an insight that can assist you in fending off controllers!
Let me explain.
Helping Controllers Helps Controllees
Because controllers are driven by their strong fears and anxieties, their compulsion or need to control diminishes commensurately with the lessening of their fears.
It thus follows that you can reduce the discomfort you endure from controllers' behavior if you can help them reduce their fears and anxieties.
In other words, you can help yourself by "helping" them.
Here is an effective way that controllees can help controllers defuse their fears and anxieties.
Reassure Your Control Freak!
Yes, that's right.   Reassure him or her that everything will be okay.    They need to hear and feel that.  It eases the "dangers" and nightmares–mostly fictional–that controllers script for themselves.   And don't be afraid to repeat your reassurances.   The more the better.
Your reassurances should be direct and simple:
"Don't worry, I'll make sure things are handled properly," or "Boss, I'll get right on it."
If your loved one is a controller, try:
"Dear, don't worry, every thing will work out all right," or "Sweetheart, is there anything I can do to help?"
You should, of course, use words and reassurance methods that feel right to you with respect to the controllers (and their concerns) in your life.
How Do You Tame Your Control Freaks?
One of the reasons for my establishing Danny's Decontrol Yourself Blog is to provide a forum for people to share their stories, experiences, and wisdom concerning the many facets of the control dynamic.
I would thus appreciate hearing from you about some effective ways of "taming" your controllers that you have learned.   Having to deal with the antics of controllers is a major concern for many people and we can all benefit from shared experiences.
In the meantime, remember to,
Let It Go–and Accept "What Is!"

Danny
If you enjoyed this post, please "like" it on your Facebook page and share it with others.
**For more on the subject, read my post "5 Common Myths of Control Freaks."