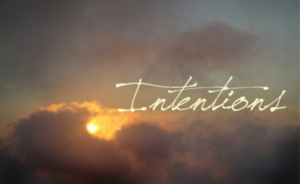 The beginning of the year is an ideal time to form your intentions for letting go of control.   Such intentions are a simple, yet highly effective way in which to remove the urge to want to control people and things.   Here are a few intentions that I have found very effective:
I intend to:
"Listen attentively to others without offering advice"
"Allow others the consequences of their choices"
"Accept life as it is and focus on what it is within my power to do"
"Face my fears"
"Trust that I will be able to take care of myself"
"Embrace and process my discomforts"
"Accept that what may work well for me may not work for others"
"Let go of the things that I can not realistically change or influence"
"Moderate my expectations"
"Say the Serenity Prayer each morning"
And,
"Repeat my intentions at least once a week throughout the year!"
Please share some of your intentions with me and others by commenting below.
In the meantime, remember to,
Let It Go–and Accept "What Is!"
Danny
If you enjoyed this post, please "like" it on your Facebook page and share it with others.