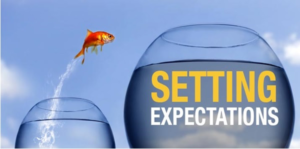 Many of us recognize the benefits of letting go of control and have a strong desire to do so, but struggle with it.  That's perfectly understandable when you consider that we have been raised and have always lived in a control based world.  After all, as young children weren't we controlled by our parents? By our teachers? And at times even by our religious leaders?  This is not to say that control is not warranted in many situations, but simply that when we have been so immersed in it throughout our lives, we feel uncomfortable and insecure without it.
It thus is a tremendous challenge to begin letting go of control—particularly with those matters and concerns that are most important to us. (Ironically, it is those areas in which losing control would be most beneficial!) As I stated in my introductory blog post, a primary reason for this blog is to provide (and engage in an intercourse about) effective tools and tips for letting go of control.  So let's start with the first one:
Moderate Your Expectations.
High Expectations Fuel Controlling Actions
We all have expectations.  They are a natural part of our desire for a better and more content life.   We expect our friends and family to act kindly and responsibly toward us and others.  We expect our work to provide us with  certain security and benefits.  We expect our children to perform well in school; our teachers to be competent; and our leaders to govern fairly.  And so on.
The problem arises when our expectations become unrealistically high.  High expectations fuel controlling actions.  When we expect too much of people and things, it inevitably leads to disappointment followed by control actions.  When people don't act or respond the way we want or expect them to, we try hard to change them.  We become critical, judgmental, demanding—even threatening.
High expectations impact all areas of our lives: work, family, friendships, sports, performance, to name a few key ones.  I will try to address these areas in future posts, but for now let's consider the impact of control on our creativity.   When you have high expectations about a creative work or piece, whether it be a painting, a music composition, a script—-even cooking a gourmet meal—it induces you to over think, become anxious, and try too hard for perfection.  These types of controlling actions severely obstruct the creative process.  Things stop jelling and flowing naturally, you stop acting intuitively, and your piece suffers.  As a painter, I have had many paintings that started out great, after which I raised my expectations, only to have them falter as I pressed to maintain their high level.
Set Realistic Expectations
Consequently, you need to set realistic goals and expectations  if you wish to reduce the urge to control.  Doing so goes a long way toward saving you and those around you from undue pressure, demands, and stress.  Similarly, do not expect too much of yourself, either.  When you do, you will start pressing and forcing the action, thereby disrupting the natural flow of events.
One effective way to set realistic expectations is simply to ask yourself whether your perceived need or desire is that important in the overall scheme of things.  Most of the time it is not. It is also helpful to keep reminding ourselves that life (and thus people, occurrences and events) is constantly moving, shifting, and ebbing and flowing, and hence it is not wise to rely too much on people acting or things turning out the way we would like.
Finding Your Hidden Treasures
I would like to close with a short passage from my forthcoming book, Losing Control, Finding Serenity:
"I carry in my wallet a wise statement from a Chinese fortune cookie I opened many years ago.  It reads, 'You will find hidden treasures where least expected.' Think about that for a moment.  If you expect less, you control less—and find more.  Conversely, when you expect more, you control more—and find less."
In the meantime,
Let It Go–and Accept "What Is!"
Danny
*If you enjoyed this post, please "like" it on your Facebook page and share it with others.