THE GIFTS OF ACCEPTANCE
(Coming Soon)
What Would Your Life Be Like If You Accepted People and Things as They Are?
Do you wish your parents had been more nurturing and supportive? Are you wondering if you'll ever find your perfect soul mate and dream boss? Do you wish you had "perfect" children, relatives who never fight, and friends who always agree with you? No one gets to sail through life free of turbulence. What separates people who shake it off, bounce back, and stay positive from the bitter, never satisfied, and defeated?
Best-selling author and former compulsive controller Daniel A. Miller convincingly attests that the answer is choosing acceptance. In the GIFTS OF ACCEPTANCE: Embracing People and Things as They Are, Danny shares what he's learned—through extensive research, inspiring true stories, and his own experience with hardships—about the integral relationship between accepting the facts of life and others, with their quirks, flaws, and differences, and enjoying greater satisfaction in life.
Recognizing the benefits of acceptance isn't difficult. Yet the reality of accepting an unexpected job loss or financial setbacks, a friend's betrayal, a child's struggle with addiction, a serious illness, or even the annoying traits of a loved one can be extremely challenging. To make it easier, THE GIFTS OF ACCEPTANCE offers insights, intentions, and strategies for practicing acceptance of parents, a significant other, children, siblings and extended family, coworkers, friends, and foes; of life's adversities and the limitations of getting older; and, perhaps toughest of all, of yourself.
You will learn how practicing acceptance helps you
Navigate life's ups and downs more easily
Enjoy greater trust, openness, and intimacy with your loved ones and those closest to you
Survive control freaks, foes, and other crazy makers
Lift self-imposed burdens and obligations and experience less stress, frustration, and worry
Reduce the struggle with your children
Strengthen bonds with coworkers and business associates
Discover new choices and opportunities in the most discouraging situations
Turn setbacks and failures to future successes
Find the path to secure self-acceptance
THE GIFTS OF ACCEPTANCE is a book with the potential to repair relationships, revitalize careers, and make the world a better place.
Find out how accepting "What Is" lets you discover "What Might Be"!
Praise for The Gifts of Acceptance
I love this book! Danny has written a masterpiece on the art and science of acceptance, revealing the paradoxical relationship between true acceptance and transformation—the key to serenity, vitality, clarity, love, joy, and wisdom. This is truly a gift to anyone who takes the time to read the precious words within this little book.
It's a pleasure to have read Miller's book on acceptance, a theme that is very close to my heart. I have been in long-term recovery, in both Al-Anon and AA, for more than four decades, and being willing to accept those people and situations over which I have no control is necessary to my peace of mind. Miller's book is absolutely key to both the understanding of acceptance and how to flourish within the confines of relationships that snag our ego.
I highly recommend this book to those who find they struggle to simply 'let people be.'
Daniel Miller shows us how acceptance is the first step toward peace. If you dwell on what you want to change about others and feel weighed down by anger, fear, and resentment, The Gifts of Acceptance can help set you free.
If you think you know what acceptance means, think again. In his latest book, Danny Miller has put a lot of research and thought into this deceptively simple yet powerful concept. He breaks down the myths and gifts of this approach to life and provides you with practical self-inquiries and 'acceptance intentions,' as well as real-life examples to help you handle every type of difficult relationship and circumstance with greater peace and serenity. Valuable as a reference guide, especially for the chapters on dealing with foes and crazy makers—and yourself! You will keep reaching for The Gifts of Acceptance as one of the 12-step staples in your library.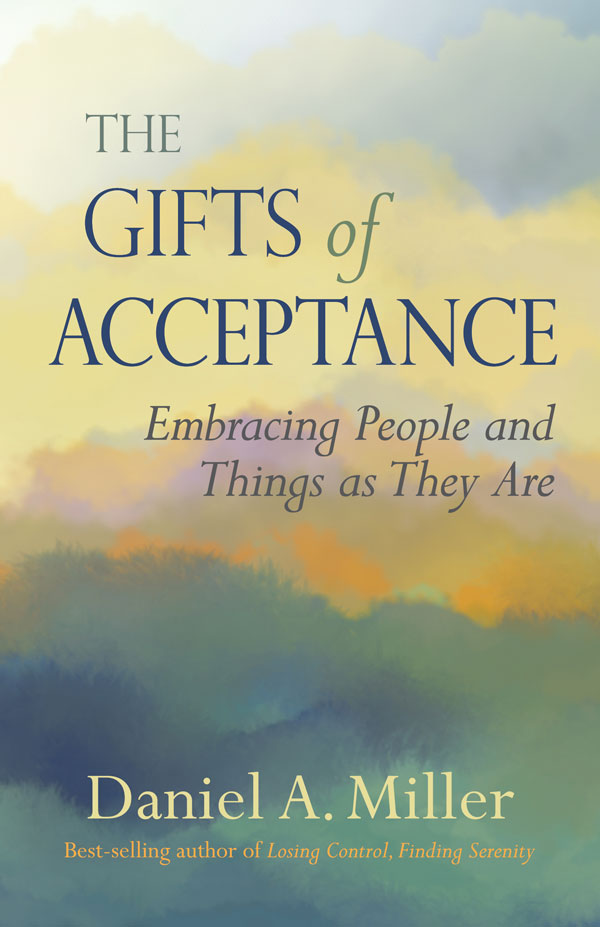 New Release Promotion!
"The Gifts Of Acceptance"
Ebook pre-orders for only $2.99.
Receive First Chapter Preview