Danny is an inspiring and thought-provoking speaker who is committed to helping people improve their lives emotionally, spiritually, creatively and financially by teaching them how to let go of unhealthy forms of control and accept people and things as they are. He personally gets involved with event organizers so that he can tailor his presentations to the specific interests of the audience.
Keys to Accepting People and Things as They Are
Based on his best selling, award-winning book, The Gifts of Acceptance: Embracing People and Things as They Are, Danny shares the remarkable and often unexpected benefits—to us and others– from accepting people and things as they are.   Using true life stories, he shows how practicing acceptance releases us from the shackles that bind us to the past, reveals meaningful new choices and opportunities, strengthens bonds with our family and loved ones–and is the best antidote for the need to control. He also explains how acceptance is the key to transcending "unlikables" such as control freaks, foes, and other "crazy-makers."
Decontrolling Your Life: Discover the True Powers that Bring You Freedom and Contentment
What would your life be like if you let go of control and let events unfold without resisting? Accepted people and things for how they are instead of trying to change them? Stopped telling your family and loved ones what's best for them? Danny answers these and other provocative questions as he shares the overlooked keys to providing freedom and contentment.  He explains proven decontrol tools and strategies developed over 30 years that help people let go of control and thereby repair damaged relationships, foster lasting love and intimacy with loved ones, strengthen bonds with their children, expand their creative horizons, and overcome financial and other hardships.
The Rewards of Relinquishing Control at Work
Drawing on his vast experience as a successful businessman and entrepreneur—and former control freak–Danny shares true stories about how the compulsion to control at work not only blinds you to profitable choices and opportunities, but also wreaks havoc on close relationships and creates stress and anxiety harmful to your health.   He describes a "holistic" way of working and doing business based on losing control that enhances your vision (giving you a broader perspective of strategic issues), reveals innovative solutions to perplexing business challenges, avoids conflict and dissension with co-workers and others, markedly reduces worry and anxiety, and averts costly diversions of time and energy.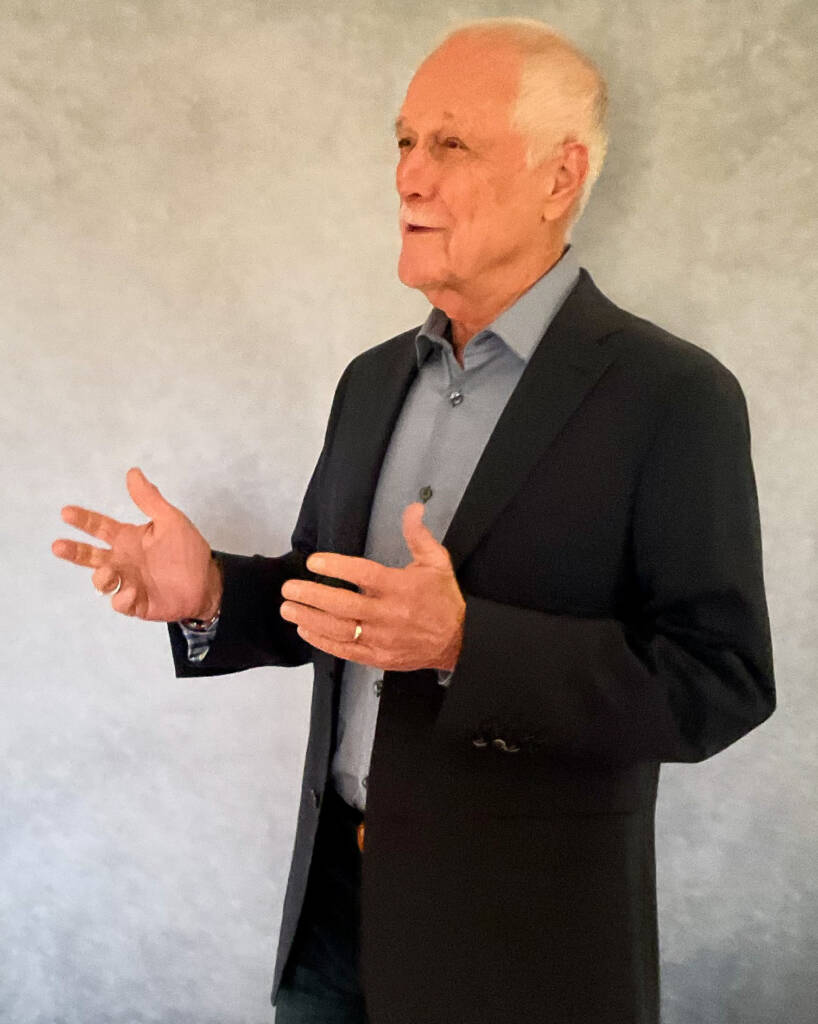 What People are Saying About Danny's Talks
"Shortly after meeting Danny and reading his book, I was convinced he would be an excellent keynote presenter at our Family Day Intensive workshops. Danny walks like he talks, and in his key note address at our workshop, his topic was right on target for those attending: 'Decontrol Tools for Healing Relationships.' He uses real life stories which clearly demonstrate how the need to be in control negatively rules and impacts our lives, as well as the lives and happiness of others. He has formulated tools and techniques that help people release control not only in family and love relationships, but also in all aspects of their lives.
"Danny is down to earth and speaks from the heart. We can all benefit from the psychological insights and spiritual wisdom he graciously shares. I highly recommend him for presentations at treatment programs and educational symposiums."
— George E. Patterson, Ph.D., Clinical Director, The Gooden Center
"Your topic, 'Letting Go of Control in the Workplace,' was so relevant to what we do daily in this office. One of my agents came to me complaining about how another agent had been. My response was, "What did Danny say yesterday????" You are already helping us. Rave reviews all around."
— Elizabeth Shapiro, Manager, Nourmand and Associates, Beverly Hills